A little about me:
Welcome to the 2018-2019 school year! My name is Delany Marino and I will be your math teacher. As a M. A. Milam K-8 Center alumni, I am extremely excited to return and give back to the school, as it gave to me. Math has always been my favorite subject and I plan to share that love with all of you (even if it may not be your favorite). There are lots of great and fun activities planned for the year and I can not wait to share them with you.

After graduating from Barbara Goleman Senior High, I went on to the best University there is, the University of Florida (GO GATORS!!). After five long, rewarding years of work, I graduated with my Bachelors in Mechanical Engineering. Although I liked what I was doing, my heart was not fully satisfied. I went on to earn my Masters in Elementary Education at the University of Florida and became certified in Mathematics K-12 grade. I have taught 1st grade and 4th grade, but I am loving being a middle school math teacher. These past few years of teaching has truly filled my heart with joy.

I expect you to work hard all year and complete assignments given. What you put in is what you get out. There will be times where it will not be easy, but I promise I will be there along the way to help you succeed.

I have no doubt that if we all work together this will be a successful year!

Ms. Marino
Powered by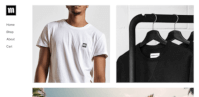 Create your own unique website with customizable templates.